Recently I attended the screening of a new documentary,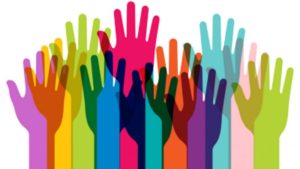 The Archivettes, the story of the Lesbian Herstory Archives in New York.  The film portrays the fierce determination of the founders who broke new ground in the 70s to preserve the emerging lesbian-feminist movement of that day—its culture, politics, and arts.  The film also depicts young queer women today who are learning about their heritage from the remnant of founders still active at the Archives.  And this remnant is passing on to the younger women the responsibility for the future preservation of the Archives.
In conversation following the screening the documentarian commented on the fascinating generational differences about the Archives that she observed in terms of language, self-identities, and political ideologies.  There was certainly mutual respect and admiration between generations but, at the same time, quite divergent ways of self-expression and socio-political engagement.
That experience led me to reflect more about the rich interplay of generations and how that expands our understandings and strengthens our work at CLGS.  Of course, generational interaction is built into the life of seminaries which means that CLGS is informed and enlivened by interchanges between students, faculty, and staff.  At the LGBTQ Religious Archives Network, we have been blessed by the participation and leadership of younger scholars and activists in recent years: their passions and perspectives invigorate me and, at the same time, challenge me.  I've had to learn to trust what I may not initially comprehend, and I imagine these new colleagues sometimes shake their heads at the words and deeds of this aging activist-organizer.
However, I know that our overall work is deeply enriched and emboldened by this generational interplay.  CLGS is a model for other religious constituencies in how to invite and listen to voices from different generations.  We must all resist the temptation to pit one generation's views and values over against another's so that we don't adopt an either-or mentality.  Instead, we can sit back and truly listen to and honor the wisdom of every single voice.  This, in turn, allows us to synthesize these different perspectives into new ways of being and doing that enable us to fulfill our vision of justice and equality in our day.
Let it be so.
Mark Bowman, Coordinator
LGBTQ Religious Archives Network