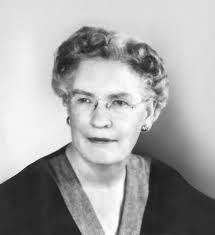 CLGS was pleased and honored to inaugurate the second of the Center's two named lectures in the fall of 2010: The Georgia Harkness Lecture.
Georgia Harkness (1891-1974) was a pioneering theologian in the Methodist tradition, a leading figure in the ecumenical movement, and the first woman hired to teach theology at a Christian seminary. Harkness focused her teaching and writing (more than thirty books and many articles) on the practical application of theology to the pressing social issues of her day, ranging from women's rights to racism, war and peace, international relations, and, later in her life, full civil rights for gay and lesbian people. Harkness retired from teaching after serving on the faculty at Pacific School of Religion from 1949 to 1960.
The passion Harkness brought to her work of making vital theological connections among wider cultural and political issues, her keen interest in employing poetry and the arts to her theological work, and her firm commitment to civil rights and social justice — all of this contributed to PSR's "tradition of boldness" — a tradition that shapes the ongoing work of PSR's Center for LGBTQ & Gender Studies in Religion.
Previous Lectures:
Eight Annual Harkness Lecture: 2017
Qwo-Li Driskill, PhD, Associate Professor in Women, Gender, and Sexuality Studies; and Director of Graduate Studies at Oregon State University, will deliver our 2017 Georgia Harkness Lecture- "Doubleweaving Resistance: Two-Spirit Stories, Theories, and Futures" on October 19 @ 6:30 pm – 8:00 pm at Chapel of the Great Commission, Pacific School. Visit the Event Page For More Info. 
Seventh Annual Harkness Lecture: 2016
Sahar Shafqat, Associate Professor of Political Science at St. Mary's College of Maryland delivered the Seventh Annual Harkness Lecture on October 20, 2016 in the PSR Chapel at 6:30pm. Visit the Event Page For More Info. 
Dr. Melissa M Wilcox  delivered the sixth annual Harkness Lecture on October 15, 2015– "A Sacred, Powerful Woman Housed in a Man's Body": Complexities of Gender and Religion in the Sisters of Perpetual Indulgence." 
Alma Lopez delivered the fifth annual Harkness Lecture on October 14, 2014–"Queer Santas, Holy Violence."
Daisy Machado delivered the fourth annual Harkness Lecture on October 8, 2013–"Borderlands and Disposable Women: Ecological Ruin and the Maquiladora Murders."
Susannah Cornwall delivered the third annual Harkness Lecture on Tuesday, September 11, 2012 — "Asking About What Is Better: Intersex, Disability, and Inaugurated Eschatology."
Laurel C. Schneider, Professor of Theology, Ethics, and Culture at Chicago Theological Seminary, delivered the second annual Harkness Lecture on Thursday, October 13, 2011– "The Gravity of Love: Theopoetics in a Queer World."
Inaugural Harkness Lecture: 2010
Rebecca Ann Parker, president of Starr King School for the Ministry, delivered the inaugural Harkness Lecture on November 16, 2010 — "The Astonishing Fire at the Heart Things: Reflections on Spiritual Stamina in Troubled Times."